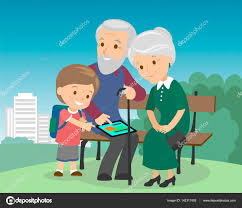 It's Not About Your Grandmother – 10 Steps Before Launching! [1] You want to launch a boomer/senior, home health tech, caregiving, product or service. Or other. Your new company gets ready to travel into battle for west coast networking [2], or you're back from San Francisco  [3]or Silicon Valley [4], consider this guidance, now that cards have been exchanged and follow-up emails sent. Soon your new or existing company will officially launch a new product or service, or a much-anticipated offering will finally ship. You read AARP [5] and Pew [6] survey research reports. Now look over this 6-month-old updated checklist.  And you look back on the 2009 advice – which is still valid, especially about creating community around the product – more important than ever [7]. And as for item 6 in this post, THIS MEANS YOU!   Really now, are you ready?
Let's Talk – What's Happening With Voice First Adoption? [8] Smart speakers – they seem to be the new, new thing.  According to eMarketer's new report , 40.7 million people [9] will use a 'smart speaker' at least once in any given month. Because there is competition now, primarily from Google, the market share projection for Amazon (which 'shipped tens of millions of  [10]devices at Christmas [10]') will drop from 66.6% to 60.8% share by then – and Google Home-related will rise to 30%. Other than Amazon and Google – "Other" will grow from 8.3% to 14%, which presumably includes Sonos, JBL, Harmon Kardon [11] and other entrants. Does this matter? The split is less important than the growth in overall adoption, not because this is the coolest of new gadgetry, but because the user interface is finally improving and matching the way we think -- after many years of deteriorating screen-based UIs that, on a good day, are just plain annoying.
Too much road noise, no self-driving information.  [12] So how safe are self-driving cars for us, those pesky consumers who are also the victims of this tech for tech's sake [13]?  Ask yourself – how would you know? Even the NTSB doesn't want you to know [14] details of accidents involving Tesla's Autopilot.  Let's remember the so-called problem being hustled into the market -- to reduce deaths from auto accidents. They are astonishingly low already, according to a Rand study [15], at 1 per 100 million miles traveled. According to the Wall Street Journal article, Tesla promised to release safety data on its self-driving tech regularly starting next quarter, though they have not said what sort of data and what could be gleaned from it -- perhaps in advance of another series (see link) of crashes [16].
For a Chief Medical Officer, what role does technology play?  [17]Recently there was an opportunity to query executives in senior care, including Dr. Arif Nazir, Chief Medical Officer, Signature HealthCARE, who was asked about the technology impact on long-term care jobs.   The insights quoted here could be generalized, not just to Skilled Nursing Facilities, but to all types of care delivery – and are particularly notable in the context of last week's New York Times article: "How Tech Can Turn Doctors into Clerical Workers [18]." As Dr. Nazir notes, it's not just doctors who can be frustrated by over-emphasis on technology. Here are the questions and few observations about the work and the workers.
Skip the tech – listen to the experts interviewed – first robots. [19]  The good news – this week's Health Care Technology supplement [20] transcended the limits of doctors and hospitals – and dabbled in the dilemmas of elder care – included technology to assist those with dementia and mitigate loneliness.   The bad news -- another in a long line of 'robots and chatbots look after the elderly,' with promotions of those oft-promoted Care.coach [21] and ElliQ [22], adding Catalia Health's cute Mabu [23]. These are worthy experiments – and not wanting to be left behind, there are always health organizations eager to see what the fuss is about. Says USC researcher, Maja Mataric [24]: "Robots give patients the illusion of having a physical companion…it isn't actually very hard to project empathy (Mabu)...Empathy is what you do, not what you feel."   Really?  How comforting.
[NOTE: For those who find the email version difficult to read, please click on the website version [25].]