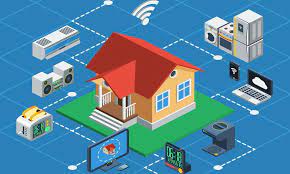 Smart home tech – if it can be invented, it has been.  It is the ultimate tinkerer's fantasy, something from an 'Open the Pod Bay Doors, Hal' future.  As we signal our car's arrival on the street near our house, the home's temperature is automatically adjusted [1], the garage door opens automatically [2]. Soon music will begin playing in the kitchen, the oven will begin preheating, and the newly purchased Echo Show 10 [3] is in position to swivel towards us as we enter and present the recipe of the day. The trash can has already changed its own bag [4], the litter robot changed the cat litter [5], and knowing it has been a dry day, the smart sprinkler has just completed its cycle [6].
Can a connected home outsmart its inhabitants?  For those who have a camera here, a smart plug there, here a smart speaker, there a clever thermostat, ask yourself: can a home reach a level of connection that transcends helpful and is just irritating? Imagine that the connected camera sends a warning when its homeowner passes by (user error) – or intermittently goes offline [7] (device error).  Note when the smart speakers get overly involved in a conversation [8].  Or you think a lamp is connected to a voice-connected plug [9], but it was that other lamp, not the one you are addressing. Or a power glitch creates device confusion [10] and beeping [11] and bonging chaos [12]. Honk if this sounds familiar.
What will enable greater adoption by older adults?  According to AARP's most recent tech survey [13], only 16% of the aged 70+ demographic own smart home technology.  Perhaps they see potential problems with having a home that is too smart for their own good. Or perhaps they see the complexity inherent in managing such a connected environment. Or they are concerned about the combined costs of devices, many headed for obsolescence [14] in just a few years.  Yet clearly some smart home features are highly beneficial [15] – compensating for physical limitations, remotely monitoring the wellbeing of older adults from afar, or automating tasks that are difficult or laborious. 
A gaggle of gadgets – today's connected homes are not that smart. Configured and installed by people, these connected home [16] devices operate various tasks (hopefully [17]) at times and in a pre-determined sequence – for example, lights, heat, music on at 5:00 pm. For this tech to offer benefits, especially what a long-distance parent or relative needs, connected home devices need to be in a 'system', one that can learn about that individual [18] and suggest changes to routines and even devices. Instead of a gaggle of gadgets, the offerings from vendors should be bundled into a subscription service that can swap in newer and smarter tech as it becomes available and is useful for specific purposes. Tech should be included in the subscription that can compensate for limitations and issues that may occur over time. This is especially true today when the post-pandemic pendulum swing has resulted in more older adults remaining longer in their own homes [19].   Thoughts?
[NOTE: This is the first in a series of blog posts that will precede a new report, "The Future of Smart Home and Older Adults 2021".]