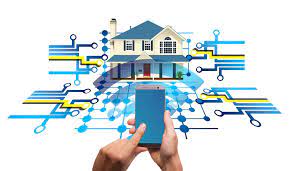 Smart home, plugged in but not connected. Consider the Boston Consulting Group's 2018 market sizing and landscape nicely visualized as a swarm of categories [1]. What you saw there is the reality of market fragmentation, filled with multiple product types that do not play well together. Or MarketandMarket's 2021 structure of the smart home market [2], noting that integrators play a key role in linking products together into a useful home environment, noting in the report that it is a "tedious task to link systems developed by different manufacturers or vendors; this could result in limited functionalities and unreliable services apart from incompatibility issues." At the bottom of the report's stack are the DIY (Home Depot [3]) categories that include thermostats, locks, and lighting. Migrating up the stack, the work of integrators and service providers begins with managed smart home systems up to luxury home systems.
Home automation for safety and security is the dominant category today. Market growth for smart homes is predicted to be significant [4]. Following Covid-19, remote monitoring of homes, temperature management, voice technology and entertainment all matter, but their deployment depends on integrating multiple incompatible technologies. Furthermore, the prospective user of these technologies may be more likely to live alone in a smaller home. The increase in stove fires has renewed interest in smarter stoves [5], for example, and rising energy costs will likely drive interest in energy conservation technologies like thermostat management [6].
How do today's smart home technologies benefit older adults? They don't. While 43% of US households own a smart home device [7], half of the owners are between the ages of 18 and 34. Smart home purchases are often for one device at a time [8]. As for older adults, surveys indicate are interested in smart TVs, smart speakers, and a home security capability [9] such as smart doorbells or home alarm systems, of interest in age 45-60 buyers. While statistics are plentiful [10], they typically do not include the older adult age 75+. When they do, such as the Linkage survey (age 55-100 [11]), smart home tech ownership across the whole age range is still low, 12% or fewer, even for smart thermostats or smart doorbells. Entertainment matters more, however -- smart TVs were owned by more than 50%, smart speakers by approximately 25%.
What should the future of smart home technology do for older adults? This is the subject of a current research effort, "The Future of Smart Home and Older Adults" to be published later this year. Insightful interviewees from across the spectrum of service, product, and caregiving offerings saw a different future landscape. Some envisioned smart home suites, without individual app controls. They imagined customization assistance offered based on need, perhaps changing over time. They saw how machine learning and AI could produce insights about older adult behavior, including improvement or decline, over time. Perhaps these offerings could deliver appropriate assistance, encouragement and suggestions as requested or needed. And ultimately smart home tech will integrate wearables that help track usage at home and beyond.