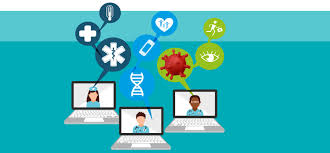 What happens when people avoid health-related in-person care? Nearly a third of older adults, according to a National Council on Aging post [1], are foregoing visits to emergency rooms, afraid of catching the virus. Or they are avoiding outpatient visits [2], afraid of Covid-19, but also concerned about cost of care.  And the cumulative number of lost visits since mid-March continues to grow. [3]   Family concerns about health and Covid-19 also continue to delay or prevent some move-ins to senior living communities [4].  Presumably, some avoidance is occurring even in circumstances where there is a pressing need for a move, such as worsening dementia.  But is telehealth viable for the oldest? 
Do the oldest have Broadband access?  Although a telehealth visit can be held via a phone call [5] or FaceTime today, eventually its use will require more secure tools and thus will likely will require broadband access or a smartphone. According to Pew Research's 2019 survey, 59% of the 65+ have broadband in the home.  This probably includes the 31% of the 65+ who were surveyed in April and said that access to the Internet was essential.  And as one article noted [6], the higher surveyed number accessing the Internet (67%) includes those who do so from a library or senior center – and  most of those in the US are currently closed.  One of the prerequisites for having broadband at home is the ability to pay the approximate $60/month to access it [7].  And whle some say no, that's too high, broadband access can be really cheap [8], as little as $10/month, likely that is dependent on location and the Internet provider.
Do the oldest have the devices that enable FaceTime or other Internet-based connections? According to AARP's 2020 report, 62% of those age 70+ have smartphones -- that's more than have broadband in the home.  The average price of a smartphone today has 'fallen' to $503, and there are those (possibly including the vendors themselves) that say smartphones have become too expensive [9], with only 10% of the population willing to spend $1000 or more.  But when they say vendors are changing strategies, they mean that new phones can be bought for $750. Unless the population aged 75+ is working (fewer than 10% [10] are during better times) or has substantial savings [11], the $750 phone will be out of reach [12].
Who is training or helping the oldest benefit from telehealth?  So let's say the oldest live in a household where there is a computer or smartphone and also knowledge of how to use these for a telehealth visit. Or they live where someone is motivated to help them do so, perhaps a family member, staff in senior housing or a nursing home, or perhaps a home care or home health worker. But what if they don't? Let's assume that for now, AARP has halted its regional training (18 locations) [13] and the OATS center-based training [14] is temporarily halted. There are few other options (like this public health degree website [15]) to help those who lack tech skills. For those who are online, a guide from AARP [16] includes the reasons why telehealth matters, especially now. Otherwise the oldest are on the wrong side of the telehealth and digital divide [17]. Rant off.
[NOTE: This is the 4th blog post in the series -- the Future of Remote Care Technology and Older Adults 2020, a report to be published in Q4 2020]