You are here
2023 Market Overview (4 of 4): Technology Augments, Does not Replace Care
Wed, 01/25/2023 - 08:40 -

Laurie Orlov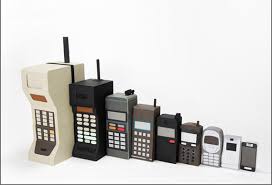 Technology solutions augment care – not replacing family or support. The categories of technology offerings help older adults age successfully and include independent market segments – each useful – but together, they complete a puzzle for a fulfilling and interactive life for older adults, enabled with the support of families and caregivers and include the sub-categories as shown in the examples at the end of the Technology for Aging 2023 Market Overview. Care-related service organizations are taking a closer look at technologies that could help them cope more effectively with staffing shortages and other issues.  However, as the photo history of phones shows, the trick is to select solutions, not tech, with staying power and support services to buffer organizations and individuals from the harshest impact of change.
Communication and engagement.  For all ages, isolation is increasingly untenable without the technology to connect to others. As 2023 began, tech vendors used the Consumer Electronics Show in Las Vegas to launch a gaggle of gadgets, not solutions, to mitigate life barriers from hearing loss to limited mobility. The 2023 versions of voice-first interfaces on smart speakers are no longer ground-breaking – 35% of Americans now own one. Future growth of that category may slow due to market saturation or possible innovation cutbacks from vendors like Amazon and Google.  
Voice assistants and hearing aids. Sixty-two percent of US adults as of January 2023 are using voice assistants on any device (including in-car, in-ear, at-drive-thru). And the hearing technology market, first disrupted by hearables, saw its biggest disruption in 2022 – FDA approval of OTC hearing aids, driving the average price downward by as much as $3000, driving sales online and into retail stores like Walmart. In addition to lower cost, hearing aids will increasingly be covered by popular Medicare Advantage plans. As smart phone adoption among the oldest continues, their ability to adjust their own hearing aids will also improve.
Safety and security. Aging in place requires a home free from obstacles and dangers, especially for the 44% of women aged 75+ who live alone.  The traditional PERS pendant industry's growth is slowing and vendors are stepping into the reimbursed Remote Patient Monitoring (RPM) market. But the pivotal entrance of Apple's fall detection legitimized the market for caregiving smart watch wearables with fall detection. Other vendors are now offering voice-enabled PERS services.
Health and wellness.  The abrupt shutdown of health visits during the pandemic triggered frenetic adoption of telehealth – now firmly entrenched as a care option on a smart phone, tablet or even on a TV. In 2022, most Medicare Advantage plans offered telehealth as a visit option, along with hearing, vision, and dental services.  Remote patient monitoring (RPM) is also on a growth trajectory, and will likely grow as a service offered by home care agencies, assuming reimbursement continues.
Learning and contribution. Experts have noted that once the basic needs of communication, safety, and health are addressed people have both the need and capacity for more. This includes learning new job-related skills, staying aware, connected, and active in society and contributing through online volunteering. Older adults also are leaving a legacy of photos and stories for their loved ones. Organizations like AARP and OATS Senior Planet Digital strive to help an older person learn a broad range of new skills.