You are here
65 is the new 85 -- Covid-19 cultivates elements of ageism
Thu, 05/07/2020 - 16:53 -

Laurie Orlov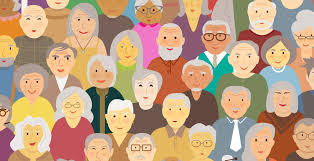 Is sixty-five the new eighty-five – and is ageism trendy?  Note the interesting behavior of 'leaders' during the time of Covid-19.  Consider the EU guidance: "The chief of the European Union's executive has warned the block's elderly that they may have to stay in lockdown till 2021 due to the new coronavirus." And in California, as seniors use more technology to communicate with others, the executive director of the Village Movement California, Charlotte Dickson, observed that EU guidance is consistent with Governor Gavin Newsom's thinking for California, though older Europeans are now resisting) and his March 15 order telling the 65+ to isolate at home: "You're basically disappearing almost 30% of the state of California, and ageism is all about disappearing people … once you retire, you're done. If seniors are being asked to continue physical distancing for the better part of the next year or two, divisions between generations may calcify." 
Meanwhile, on the other side of the country -- Florida.  One fifth of the Florida population is aged 65+. It was just a few years ago, that 60 was the new 40 and older adults were advised to start counting their age backwards at 70, next birthday is 69, etc.  These days that seems charming.  Now, arriving at 70, they should be vigilant, cautious, anxious. An expert offered his gloomy advice, carried beyond Florida via multiple TV networks: "One doctor emphasizes that there is no substitute for social distancing and hygiene. I don't think older people should be safe, feel safe going to restaurants, gym, bars," said Dr. Joseph Ouslander. "I think they should be very, very careful if they go to a barbershop or a beauty shop." Ouslander is a professor of geriatric medicine at Florida Atlantic University and the Executive Editor for the Journal of the American Geriatrics Society (AGS). So he should know.
And in New York – Andrew Cuomo was surprised.  Hysterical publicity about nursing homes can surprise even the governor of New York. It turns out that 66% of hospitalizations with Covid-19 in New York were people who had been staying at home, the majority retired or unemployed and over age 51.  Only 18% came from nursing homes.  Why would he have been surprised?  Because the endless repetition of news, especially in New York, about deaths in nursing homes can cast a pall over all other information.  Why he thought this was a reinforcement of the state's guidance to continue to stay home – that is anyone's guess. 
Ageism gets renewed validation and rights of expression.  The signs of ageism are all around and trackable on Twitter (#BoomerRemover hashtag – really???) and beyond, even inspiring Columbia public health researchers to categorize its various manifestations  as "hostile, neglectful and benevolent."  Which was Newsom's recommendation in March that hospitals focus on the young?  Or the Texas governor's response to a stupid question that "grandparents were willing to die to save the economy for their grandchildren?" Consider the changes in healthcare protocols designed to protect children versus older adults.  One writer wondered if the Covid-19 pandemic had largely impacted children versus older adults, would the national response have been more earlier or more aggressive?  Maybe not, but stay tuned. The language of ageism and its accompanying behaviors is alive and well.