You are here
CES 2020: Ten Intriguing New Technologies for Older Adults    
Sun, 01/12/2020 - 17:28 -

Laurie Orlov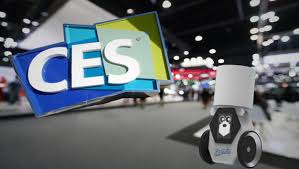 CES 2020 – walking the land of the new.  What has 170,000 attendees, long lines, baffling arrangements of booth numbers across multiple, gigantic locations and more robots than you can shake a motion sensor at?  That was CES 2020.  This gigantic parade of the international new and possible can be perused online in detail (and perhaps more usefully) without walking a step or sniffing cigar smoke. This time, seen (somewhat) in person, here are 10 new offerings from the show that may be relevant to the older adult technology market.  Descriptions are drawn from show booth presentations, sessions, websites, and press releases:
CarePLUS. "Beyond Vision, a startup solution in the form of an AI healthcare product, CarePLUS. Through cameras installed inside the household, the solution can detect the motions and postures of beloved family members with AI and release warning messages at the moment of danger, such as falling, sitting too long, leaving home without a clear reason, etc. Every time an elder is detected to have fallen, sit too long, remain too long in the restroom, leave home at the wrong times, etc., the app will give off an alarm to notify all family members. A user may also open the app interface and see a real-time video of the home's interior." Not yet available. Learn more at Taiwan Tech Arena.
Essence Group Fall Detector Radar. "Essence Group released a new multi-sensor fall detection system for seniors. Built on Texas Instrument radar technology, the API works with Essence's Care@Home senior monitoring platform, which places integrated devices and wearables around the home to track physical activity, safety, and physical or verbal panic. The new product uses radar  (mmWave) technology to track a person's position in the home, provide immediate detection of a fall, and immediately alert healthcare providers.  Not yet available. Learn more from Essence Group." Learn more from Essence Group.
HeardThat. HeardThat "turns a smartphone into a hearing assistant, helping to tune out background noise to enable individuals with hearing loss to hear speech more clearly, allowing them to engage in conversations they would otherwise have trouble hearing." HeardThat reportedly utilizes 'advanced machine learning machine algorithms' to separate speech from noise. According to the company, "it listens to the noisy environment and delivers de-noised speech, to the individual's Bluetooth-enabled hearing aid or other listening devices via their smartphone." Not yet available. Learn more from video.
HomeFit AR. "HomeFit AR is an augmented reality app created from the solutions in the AARP HomeFit Guide. The app enables users to scan a room and discover what improvements can be made to turn where they live into a 'lifelong home.' The app identifies design elements and appliances like refrigerators, sinks and stairs then provide additional information with specific "to-dos" or fixes to help make the home safer, more comfortable and a great fit." Learn more at AARP Innovation Labs.
Houndify DeepMeaning Understanding. "SoundHound offered up new features for in-car radio, including the ability to: "Ask multiple questions and filter results all at once. Answers your most complex questions anywhere: on any connected device, app, or website — at home or on the go. For example, users can say "show me hotels in San Francisco for tomorrow that are less than $300 but not less than $200, are pet friendly, have a gym and a pool, with 3 or 4 stars, staying for 2 nights, and don't include anything that doesn't have Wi-Fi." Learn more from Houndify.
Kytera Companion. "Kytera Companion is an AI-based smart remote caregiver solution that enables elders to age safely at home. Based on innovative monitoring and analysis technology, the solution provides insight into elders' activity at an unprecedented resolution, and enables for the first time automatic and reliable detection of both hard and soft falls (soft falls account for the majority of falls at elders, and so far, there has been no technology that enables their detection). Using AI, the solution further provides comprehensive wellness monitoring to automatically detect physical and mental deterioration, as well as predict evolving disease conditions (such as depression, dementia and UTI) based on behavioral symptoms." Learn more at Kytera.
MedWand. "MedWand fulfills the potential of telemedicine. Created by physicians and medical device engineers, MedWand houses multiple diagnostic tools in a single, easy-to-use handheld device. With a MedWand on the patient's side, clinicians can conduct remote office visits, and through the real-time collection of multiple vital sign readings and key patient assessments, detect and follow numerous medical conditions from across town, or around the world." Learn more at MedWand.
OrCam Hear. "OrCam Hear is an artificial intelligence-powered hearing aid that combines lip reading with simultaneous voice source separation. The device is the size of a finger, wireless, lightweight, and hands-free. It works by identifying, isolating, and relaying a specific voice to hearing aids via Bluetooth. OrCam Hear works with body movement to select the person the user wants to hear, and switches between speakers by responding to the repositioning of the wearer. All operation is processed offline – without the need of Wi-Fi or a smartphone while ensuring data privacy." Not in market yet. Learn more at OrCam.
PECOLA. "PECOLA is a companion robot incorporating ambient intelligence for the elderly. By collecting and analyzing users' life and physiological data, this innovation can detect abnormal behaviors of elders and thus achieve preventive healthcare. The robot, which follows its user around the home, can detect emotions, perform video-based diet analysis and conduct sleep analysis by detecting breathing and heart rate, according to a product fact sheet. The robot automatically provides daily reports on these activities to the user's caregiver. The robot uses video-based fall detection technology and will phone for assistance." Not yet available. Learn more at ITRI.
Zibrio. "The Zibrio SmartScale enables home users to measure and track their balance, with a particular focus on the aging population. The Zibrio SmartScale measures balance with a simple, safe, 60-second test. The user stands still on the SmartScale for 60 seconds with their eyes open, and the SmartScale gives them a balance score from 1-10. A lower score is associated with an increased risk of falling in adults age 65+.  Upon completion of the balance test, the platform displays the balance score and lights up red, yellow, or green to communicate the score's fall-risk level (high, medium, low)." Winner of AARP Innovation Pitch Event. Learn more at Zibrio.
[Note: Please see latest research report, Voice, Health and Wellbeing 2020 -- published during CES -- about the use of Voice First technology in healthcare offerings]