You are here
Five Virtual Reality technology offerings for older adults in 2019
Thu, 05/09/2019 - 10:16 -

Laurie Orlov
In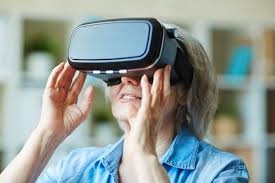 2017, it was clear that virtual reality technology had evolved beyond the point of experiments and was having a number of limited introductions into the world of older adults, including senior living environments (Rendever) as well as pain mitigation (FirstHand). Virtual reality has made its way into the 'future of healthcare delivery' consulting, as firms like Care Innovations and Deloitte publish their how-to white papers.  For 2019, here are five VR offerings that specifically note benefits for older adults. The content is drawn from the firms' websites and/or articles about them:
Embodied Labs. "Our innovative, research-based VR experiences allow caregivers, staff, and trainees to embody a person with a specific condition and learn what it's like to walk in their shoes.We build authentic, meaningful virtual reality narratives powered by embodied and experiential learning theories. We use an innovative combination of filmmaking, software development, educational design, and interactive media to create engaging experiences your staff will look forward to using." Learn more at EmbodiedLabs.
Lumeum. "VR for those who need it the most. The utilization of VR to improve the lives of older adults has been the subject of many academic research papers. Lumeum was birthed from access to technology. The advent of virtual reality unlocked an explosion of innovation in the gaming and entertainment industries, but many overlook the populations that can benefit from virtual reality the most. Lumeum VR brings immersive sensory experiences of travel, exploration, and adventure to those with limited mobility." See links to research papers and learn more at Lumeum.
MyndVR.  "MyndVR is a national health and wellness company providing Virtual Reality solutions to Assisted Living, CCRCs, Veterans homes, 55+ living communities and home-health care providers.   The company is intelligently curating a vast library of VR content and creating original programming designed to create happy, calming and memorable experiences.  In addition, MyndVR is working with leading US universities and researchers to study the potential cognitive health benefits for our dynamic and aging population using VR." Learn more at MyndVR.
Oculus Go. "Completely wireless, you charge it up, put it on your face, and you're off and running. Even the Gear VR needed you to have a specific model of smartphone and know how to plug it in correctly, using controls on the side of the headset itself for input. The Oculus Go lets your grandmother pop on a VR headset, use a remote-like controller that will feel instantly familiar, and dive straight into a VR video call with her grandkids." Learn more at DigitalTrends.
Wellness VR (Visual). "Reduce stress and promote well-being in seniors. The results of our pre/post evaluation of VR exposure show that virtual reality can help our elderly to maintain a high level of positive emotion and relaxation. Participants reported positive stimulation and therapeutic sensation and appraised VR as one of their preferred activities for even evading dementia." Learn more at Wellnessvr.io.
[NOTE: For those reading this post in email, please check out the source website, ageinplacetech.com.]
[NOTE: Will be speaking at 2019 Silicon Valley Boomer Venture Summit on June 6 in Berkeley.  Hope to see you there.]