You are here
Care options for seniors...tech included
Tue, 02/02/2021 - 16:27 -

Laurie Orlov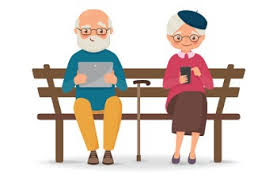 Aging in place – it's emerged (again) during these Covid-19 times. Déjà vu all over again. But 'aging in place' is still a challenge and maybe a pipe dream for seniors in their late 70's or 80's.  Consider a few issues for starters:  chronic health conditions, mobility limitations, stairs, snow/ice, driving, dangerous hills for walking, cognitive issues, and social isolation.  You get the idea.  Then there is the cost of 24x7 home care, same as assisted living (which is $67K/year in Massachusetts, for example) or even Genworth's 44-hours of home care ($53-54K annual).  That may work for the most well-to-do seniors.  But families are still in a position of finding and then managing the care workers, even with agency assistance. So Mom or Dad stays at home as long as feasible and even beyond – and that's why the home care industry today is booming. And competing for the same workers as senior living firms pay their CNAs. 
Senior living – maybe the pitch is about providing care. The irony! Forever, it seems that the senior living sales pitch has been about the variety and quality of food, the beauty of the décor, and the plentiful 'lifestyle' activities.  This mythology persisted, even as the average age of residents rose into the mid-80's, frailty of residents increased (note the need for help with bathing). Dementia care (note percentages with various levels of dementia), by 2019 a much-needed offering. Consider the role of the LPN nurse -- calling 911 to bring residents to the ER for all but the simplest condition. But in a recent interview, one executive noted the pitch has migrated to selling care:  "Sales and marketing teams did not focus as much training on the care component, pre-pandemic, which caught many flat-footed when general inquiries into the product took a nosedive."  And now some make the case for an onsite  RN, not an LPN.
Are nursing homes going to disappear? Unlikely. It's one thing to read the appropriate coverage in the media about the horrendous mismanagement of Covid-19 patients in New York City nursing homes. But does mismanagement and fact obfuscation about death rates guarantee the industry's long-term 'grim future'?  Even if assisted living organizations hire an RN, offer dementia care, and change their marketing strategies, some seniors will end up in in one of the 14,000+ US nursing homes. Perhaps the reasons could be the Medicare-paid post-acute rehab care, in-room wound and IV treatments, and Medicaid-reimbursed daily rate.  Perhaps the assisted living staff or the senior's family could no longer handle the older adult who may have significant care requirements. Perhaps many years in assisted living consumed family assets and an elder law attorney helped with the move to a Medicaid-eligible nursing home?   
No matter where older adults live, technology capability matters.  Older adults need to get and stay connected via broadband.  And when another distressing survey says that 22 million seniors don't have it, that isn't going to work.  Broadband enables signing up for vaccine appointments, finding home care, getting meals delivered, learning a skill, seeing family members, and finding a job. Since the telecom carriers don't seem to be closing this enormous gap, it's time that some national entity focused older adults living in their own homes gets it done. Senior living needs to get it done – for an example – see the home page featuring technology depth for Asbury Communities.  Skilled nursing facilities need to work with payers to a) upgrade to broadband; b) enable families and outside organizations to connect with residents; and c) combine with healthcare services like teledentistry and permanently make telehealth available to all residents.