You are here
Sampling technology for managing diabetes
Tue, 12/17/2019 - 17:57 -

Laurie Orlov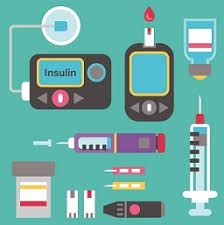 Diabetes is a critical health problem.  More than 30 million Americans have diabetes – but 23 million of them, according to the CDC, are undiagnosed. Today, the obesity rate for adults 60 and over has risen to 41%. It is estimated that 30% of the overweight adults have diabetes – and most diabetics are overweight. Another third of the adult population has pre-diabetes – including 23 million of the 65+.  A survey of technology offerings reveals a plethora of apps and information sites, not to mention devices that are part of the diabetes management equation. So what technologies are viewed as useful for the millions with diabetes? Here is a sampling:
Apps: Nutrition tracking apps for monitoring diet and blood sugar (from Healthline) include Glucose Buddy, DiabetesConnect, and SugarSense.  Health2Sync ('round the clock diabetes care' provides a logging tool as well as encouragement. In addition, apps that help educate individuals with diabetes include Fooducate, which explains the sugar and carb content of various foods. The tracking of blood sugar has been gamified in MySugr, which has at least 1 million users in 52 countries.)
Information sites: Healthline also offers a list of the best diabetes blogs (curated) of 2019 and another blogsite that aggregates a longer list.  List of 'hand-picked' diabetes websites noted in Diabetes Gourmet Magazine, and information sites from Johns Hopkins (Guide to Diabetes) and the American Diabetes Association website.
Coaching: Numerous websites offer online, remote coaching – like Omada Health, Diabetes Strong personal coaching, Integrated Diabetes Services, and reversing Type 2 Diabetes (Verta) and studies that demonstrate reversal, even without weight loss.
About Glucometers: Comparing glucometers from AgaMatrix, MPR, Top 10 Reviews and an article that questions the accuracy of 18 different glucometers, as well as a scientific article that recommends the standard for accuracy (error threshold) be revised.
Continuous Glucose Monitors (CGMs):  Beginning in 2016, the FDA began approving Continuous Glucose Monitors. According to Managed Care: "Continuous glucose monitors have sensors placed either on the arm or abdomen that read glucose levels in the cellular fluid just under the skin. The sensors, ranging in size from a penny to a stack of two quarters, are held in place with adhesives. A tiny needle built into the sensors is pushed into the skin."  By 2018, had approved Dexcom's G5 Continuous Glucose Monitor, Abbott's FreeStyle Libre CGM, Medtronic's Guardian Connect, and Dexcom's G6. These were followed by Eversense in 2018 and Senseonics in 2019. 
Smartphone accessories: Combining glucometer with iPhone case (Glu), iOS smartphone accessories/gadgets and the Dario smartphone meter toolkit (iPhone and Android).  There are also a variety of Medic alert offerings for Type 1 diabetics.
Managing medication adherence. As many as 50% of those with diabetes do not take adequate medication to manage their blood sugar, accounting for $24.6 billion in avoidable healthcare costs. Although some would say that Americans take too many pills, for many, medication is critical to health and wellbeing—especially diabetics.  For those taking pills for managing Type 2 diabetes, locking medication containers from MedMinder Pharmacy or Philips may be useful.
Data-driven diabetes care: Smartphone synching of readings with clinical content and support systems – can used as research tools and ways to improve care (Novo Nordisk, IBM Watson/Medtronic, Glooko).
Innovators in Diabetes Technology mid-year 2019: Low-cost Continuous Glucose Monitoring (see #5), Digital Skin Patches (Nemaura), smart insulin pens (Gocap and InPen, NovoPen (NovoNordisk) disposable pre-filled injection pens and by November, 2019, sensor-augmented pumps from Tandem and Medtronic, the Omnipad DASH continuous insulin pump, the Tidepool Loop (development initiated by diabetes patients).