You are here
Voice, Health, and Well-being – Launching a New Report for 2020
Wed, 07/24/2019 - 10:00 -

Laurie Orlov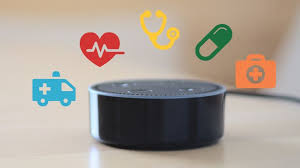 It's a given -- Voice First will be even more pervasive in 2020. The rapid growth of the market for voice-enabled technologies has been a phenomenon within the past two years that can understand spoken requests and commands, answer questions, and even offer scheduled alerts.  Industry firms like Gartner expect that the combination of natural language processing, AI, and speech recognition are driving significant growth in adoption of voice technology across multiple dimensions. Speech recognition, for example, will penetrate 80% of mobile devices by 2020.   Some describe this trend of developing software for voice-enabled device user interfaces as Voice First.
Voice First in health -- examples proliferate – is this a fad, or is there staying power?  You can't turn around without encountering another example. Startups (37) are building voice apps; consider that voice skills seem to be populating like weeds in healthcare; the big vendors want to be popping up at the bedside in patient care, and of course, all this deployment will change healthcare. But is that true? A research report project launches in September that will seek answers to these and other questions. The process will incorporate interviews with 20-30 experts/stakeholders. 
Why tackle the topic of voice, health, and well-being?  This research is a follow-on report to the 2018 Future of Voice First Technology and Older Adults. The research/report process seeks to understand the role that voice-activated technologies can play in monitoring and improving health, engaging multiple age groups, including boomer-senior adults living at home or in senior living. The scope and details of the topic are subject to shaping by report sponsors, but may also consider younger age groups and how they may benefit from Voice First support in disease management; or how individuals respond to health and well-being suggestions based on profiles, interactions and feedback. The report may attempt to answer, among other questions:
What is the opportunity for voice assistants as envisioned by health care providers?

What's new in the use of voice-enabled technology for home healthcare, outpatient healthcare services and monitoring or encouraging well-being?

What are the different types of voice-enabled services/scenarios for home health, home care, senior living, or outpatient care?

What's next and who (or what organizations) will be involved?
Your thoughts are welcome. In a rapidly changing technology segment like this, no one person or organization can see clearly what is happening or what may happen next.  Please feel free to comment directly to this post or send thoughts to laurie@ageinplacetech.com. The goal of this project is to complete interviews in Q4 and publish the report in early Q1 2020.  Thanks in advance for your help and thoughts.