You are here
From CES 2023 (2 of 2) - Six more tech offerings that serve older adults
Wed, 01/11/2023 - 13:25 -

Laurie Orlov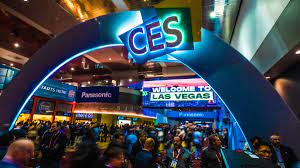 It's possible to participate in CES – and not be a startup.  While startups were MANY that sought a presence in the older adult technology marketplace, now known as AgeTech, many firms were there who had been at CES before. They went back because of the business benefits of being at the show, post-pandemic, with a chance to interact with some of the 115,000 attendees.  Observers can also watch the whole thing after the fact, like many from around the world will do. Here are six prior attendees in the older adult, wellbeing category that serves older adults. All information is from press releases or the company websites.
CarePredict Care Guide. "CarePredict™, the leading AI-Powered Digital Health platform for senior care, announced today that their remote patient monitoring solution, CareGuide, was named a CES 2023 Innovation Awards Honoree in the Digital Health category. CareGuide is the first-of-its-kind remote monitoring platform that goes beyond collecting physiological measures to include monitoring the daily activity and behavior signals of older adults, providing a 360-degree view of their wellbeing, requiring no training. This is the fourth time in five years that CES has recognized CarePredict for its innovations."  Learn more.
Essence VitalOn. "VitalOn remote patient monitoring and chronic disease management platform provides a seamless user experience for seniors and patients requiring a simple yet comprehensive support system. Optimized to address the growing challenge of patient disengagement, it combines telecare, telehealth and wellness capabilities into a single, easy-to-use platform that continuously monitors wellbeing parameters and vital signs from multiple devices to detect and alert in case of abnormal activity. VitalOn enables seniors to easily monitor their vital signs and connects them directly to their care teams without the need to rely on smartphone or tablet app." Learn more.
Electronic Caregiver Group. "Designed to provide affordable health monitoring and wellness support at home, the virtual assistant could help providers increase treatment adherence rates and improve health outcomes for aging and chronically ill patients. Designed to provide affordable health monitoring and wellness support at home, the virtual assistant could help providers increase treatment adherence rates and improve health outcomes for aging and chronically ill patients. A new virtual caregiver from technology developer Electronic Caregiver interacts with people through a patient's voice and touch via a Lenovo IdeaCentre All-in-One computer or Yoga convertible tablet. The new approach to remote patient monitoring could be a big help for seniors aging in place."  Learn more.
Labrador Systems and Echo Show 10. "The Labrador Retriever personal robot empowers people to live more independently and extends the impact of caregivers. The assistive robot lightens the load of daily activities by moving essential items within the home and bringing them within reach. As one example, Labrador demonstrated a proof-of-concept featuring Amazon's Echo Show 10, installed on top of the Labrador Retriever. When combined with the Retriever, this enables a new degree of freedom for customers by bringing the Echo Show 10 within easy view in different parts of the home. The result is a new way of interacting with the Retriever as well as broader range of options for connecting with caregivers." Learn more.
Somalytics. "The patent-pending carbon-nanotube paper composite capacitive sensors can "feel" human presence at up to 200 mm. Somalytics' eye, gesture, touch and fluid monitoring sensors offer transformative solutions for eye tracking, consumer electronics, IoT, health and wellness, transportation, and more.  Somalytics sensors are disruptive because they deliver greater sensitivity in a smaller size and at a lower cost than other available sensor technologies. They have unique properties that will enable IoT and human experience in ways that were not possible before. The tiny, yet powerful nanotechnology infused paper capacitive sensors range in size from 1 mm to 11 mm and are as thin as a human hair." Learn more at Somalytics.
Zibrio. "Measure and track your balance with the award-winning ZIBRIO Stability Home scale. provides measurement-based fall prevention. Originally invented for astronauts, ZIBRIO technology provides an easy way to measure weight, balance and fall risk in 60 seconds. ZIBRIO predicts if you will fall down in the next 12 months and then guides you to improve balance with personalized plans, at home and in the clinic.  All you do is stand as still as you can. The scale can be used either on its own or when paired with the ZIBRIO BalanceCoach mobile app." Learn more.