You are here
Social isolation of older adults – a problem and an opportunity
Wed, 10/14/2020 - 12:45 -

Laurie Orlov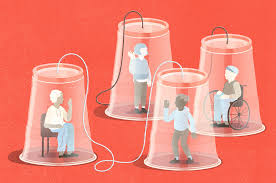 Life has been worsening for older adults – in senior living and at home.  Every day there is some new article about the impact of Covid-19 on older adults -- or another study turns up that you missed. Residents in senior living communities are having a tough time, cut off from activities and visits from family.  Isolation has produced an increase in mental health issues, loneliness and depression – and that would be for those who have a good grasp of what is going on – for those in long-term care, for those with dementia, unable to be hugged by family, it is far worse. What's been going on with older adults in the context of social isolation and loneliness?
Pandemic activity limitations resulted in social isolation and loneliness. An AARP Foundation report published in early October verified what we already knew. One-third of women aged 50+ reported going going 1-3 months without any interactions outside of their households or workplace. We also knew from previous research that loneliness may be linked to a greater risk for cognitive decline as well as high blood pressure, heart disease, obesity, a weakened immune system, anxiety, and depression. Studies have shown that loneliness and social isolation may be linked to all-cause mortality.
So what is the role of technology in mitigating social isolation today?  Given the barriers of social distancing, the path of least resistance seems to have been to mandate isolation of elderly, considered, sometimes inappropriately, vulnerable, to be treated differently. So organizations have surfaced with varying alternatives to help mitigate – including the Stuck at Home Guides from Silver Planet, the Connect2Affect assessment and the Gerontechnologist just published a list of useful technologies to help mitigate social isolation issues. In the age of Zoom, the Internet can – and has -- been a lifeline for some who older adults who use it to stay connected to family and for those care providers use it to stay connected to those older adults.
What about those offline older adults who lack high speed access?  In another recently produced report about the Cost of Connectivity, the researchers noted that cost was a significant factor in the lack of high speed access, exacerbated during the Covid-19 crisis and that additional fees and hidden costs made that access even less affordable. The report recommended that Internet Service Providers (ISPs) should provide a 'Broadband Nutrition Label' to help consumers shop – and for the oldest and disconnected, help their adult children and service providers shop for high speed internet access.