You are here
Technologies from the Argentum 2020 virtual conference and suppliers
Thu, 09/24/2020 - 12:54 -

Laurie Orlov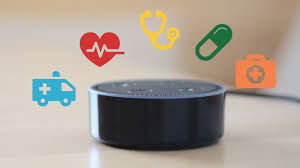 It's been an interesting technology week. New announcements in the voice first category were of particular interest. These include GreatCall's new Lively Flip phone with voice services and the announcement that Amazon's Alexa has added 80,000 answers to healthcare questions through a partnership with Digital Health company Sharecare. And today (9/24) it announced CareHub, a way to monitor family members from afar.As if that weren't enough, a tech track at Argentum's annual (now virtual) conference included a session on Voice First (with Ryan Elza and Nick Patel, sponsored by CDW Healthcare) in a long list of tech enablement session entries. Also on the Argentum site is a product category listing. Here are five from Argentum 2020:
CareMerge Voice. (CareMerge is in the Argentum, Senior Living Supplier catalog). "Caremerge Voice helps improve the residents' experience by enabling them to interact with Alexa for community-specific information the natural way they have always used it.  Caremerge Voice provides a new level of instant access to community information and concierge services that senior living communities and residents are going to love. As senior living technology moves past early adopters and more communities move forward with voice technology, Caremerge is going to be on the cutting edge of that advancement." Learn more at CareMerge.
CarePredict Pinpoint. "CarePredict, the leading AI-Powered Digital Health company for seniors and their caregivers offers CarePredict PinPoint Toolset consisting of Contact Tracing, Location Tracing, Path Tracing, and Room Traffic tools for Independent Living, Assisted Living, Memory Care, Nursing Homes, and Hospital facilities." Learn more at CarePredict.
Netsmart Telehealth.  "Netsmart Telehealth™ is a mobile and web technology platform that supports virtual clinical services, and builds personal connections among individuals, care teams and family members. With Telehealth, fully integrated workflows within the electronic health record (EHR) support live healthcare visits, putting specialized care within reach during crises and expanding care options to existing clients." Learn more at Netsmart.
Rendever Senior Living. "Rendever's resident engagement platform has been used by hundreds of staff members and provided more than 650,000+ experiences to thousands of residents. We regularly hear that caregivers appreciate when their operator invests in technology to support resident happiness. Connecting with residents through these experiences leads to an increased sense of empathy and a deeper level of commitment to providing care." Learn more at Rendever.
SafelyYou Insight.  "With SafelyYou-Insight™ services, your community gains access to clinical fall expertise. Within 72 hours, fall assessments are provided by our clinical team to document the incident in detail and highlight possible corrective actions based on your specific resident fall patterns and needs. Our fall experts have seen thousands of falls and set aside time on your schedule to review the fall videos, root cause analysis, and recommendations." Learn more at SafelyYou.