You are here
Ten technologies that can help with fall detection in 2019
Wed, 04/24/2019 - 07:27 -

Laurie Orlov
The more thin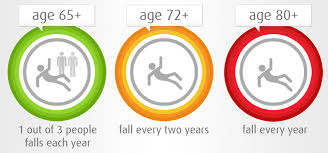 gs change…Who would have thought that fall detection would be added to a hearing aid?  Or that Apple would produce a watch with built-in fall detection, automatically activated for the 65+? A decade ago, before our very first Market Overview, Halo Monitoring launched a wearable fall detection chest strap, realizing the press-the-button PERS devices might not be enough to keep older adults safe – what if they weren't wearing it?  That dilemma, of course, has helped drive some innovation in the medical alert industry, estimated at $3 billion annual revenue. In fact, MobileHelp, one of the first mobile PERS devices, acquired Halo Monitoring in 2012 – a good move for both, especially since by 2012, it was clear that fall detection by itself was not yet a market category hit.
So where are we today? Well, by itself, "fall detection" is not yet a market category hit. Often it is blurred as fall prevention – certainly a good idea in the face of the reported $50 billion cost of non-fatal falls annually. Falls have been correlated with other health issues, associated with hearing loss and depression. Wearing a fall detector does not prevent a fall, though if it catches a precursor fall, it can serve as an early warning signal of future, perhaps more dangerous falls, and prompt an intervention. But as a feature of something else, usually a PERS device,  in 2019, you can search and you can find multiple choices, more than in 2009. Here are ten example-only fall detection options in alphabetical order, material derived from the company websites or available media:   
AppleWatch. "If the Apple Watch Series 4 detects a hard fall while you're wearing your watch, it taps you on the wrist, sounds an alarm, and displays an alert. You can choose to contact emergency services or dismiss the alert by pressing the Digital Crown, tapping Close in the upper-left corner, or tapping "I'm OK." If your Apple Watch detects that you're moving, it waits for you to respond to the alert and won't automatically call emergency services. If your watch detects that you have been immobile for about a minute, it will make the call automatically. After the call ends, your watch sends a message to your emergency contacts with your location letting them know that your watch detected a hard fall and dialed emergency services." Learn more at Apple.
FallCall.  "FallCall Solutions announced today that FallCall Lite, the only personal emergency assistant for Apple Watch fully integrated into a national 24/7 emergency call center, now supports Apple's new Siri Shortcuts. Users can record simple phrases like: "Assistance needed," to contact trained emergency medical dispatchers and/or linked family and friends. "Time is of the essence when someone needs help," states Shea Gregg, MD, a Trauma Surgeon and the President of FallCall Solutions. "Siri Shortcuts have simplified the ability to communicate and initiate commands on Apple devices. We have harnessed this revolutionary capability to contact family, friends and our 24/7 call center in an emergency. Additionally, FallCall will send location and heart rate information to aid in the response." Learn more at FallCall.
GreatCall Lively Mobile Plus. "The Lively Mobile Plus, like its predecessor, the Lively Mobile, has the fastest response time, as noted in published medical alert reviews. Its enhanced GPS technology, provided by Snapdragon Wear™ 1100 Platform, enables reliable and accurate locating in emergency situations. The device is equipped with fall detection technology, connecting to an agent when a fall occurs. Features also include the loudest amplified speaker yet for clear two-way communication, improved battery life - up to 80 hours - and a waterproof design so it can be worn in the shower." Learn more at GreatCall.
MobileHelp. "Our Fall Button provides extra protection by automatically sending an alarm if you fall and are unable to push your button. Our Fall Button is compatible with our Duo, Classic and Solo systems. Along with its Automatic Fall Detecting capabilities, it also has all of the features of our standard help buttons and allows you to send an alert to our US-based 24 x 7 x 365 Emergency Monitoring service by pressing the emergency button. The Fall Button will work approximately 350 feet from the Mobile Device and 600 feet from the Cellular Base Station of our Duo and Classic systems." Learn more at MobileHelp.
MyNotifi. "MyNotifi is a fall detection device that is worn on the wrist or belt and connects directly to the user's smart device. Since MyNotifi is worn on the wrist or on the belt line and is smart app driven, it can travel with you maintaining a continuous fall detection signal. In other words, the user is not relegated to the house as is the case if they are linked via a land line. Many or our aged population desire to live at home and MyNotifi allows them to do so, while keeping them in close contact with loved ones." Learn more at MyNotifi.
Philips Lifeline. "The GoSafe medical alert system is our most comprehensive system; it provides coverage and support wherever you go—whether that's at home or to the supermarket. In addition to the GPS-enabled pendant, the in-home communicator provides an added layer of connectivity in your home. AutoAlert is designed to detect falls accurately and connect seniors to help in an instant, even if you can't push the button." Learn more at Philips.
Starkey Livio AI. "A hearing aid feature, Livio AI benefits from the anatomy and physiology of the human body. During typical, daily activities and instances of falls, muscles in the neck work with the balance system of the inner ear to protect and stabilize the head. Since hearing aids are worn on the head, they are naturally less prone to mistake daily activities for falls than the devices worn on other parts of the body." Learn more at Starkey.
UnaliWear. "The Kanega watch is a self-contained watch and is not dependent on a connection to a home-based system or a smartphone, so you can get assistance at home or on the go in one simple, stylish watch. We combine cellular, Wi-Fi, GPS, BLE (for hearing aids and telemedicine devices), an accelerometer for automatic fall detection, and continuous speech to provide an active medical alert that works anywhere, along with data-driven artificial intelligence that learns the wearer's lifestyle to provide predictive, pre-emptive support." Learn more at UnaliWear.
Vayyar Walabot Home.  "Vayyar Imaging, a company best known for its 3D sensor imaging technology, launched a new product called Walabot Home that can detect if a person has fallen and automatically call for help.  Walabot attaches to a wall in the user's home and is about the size of a small tablet. Users can put in their emergency contact list and if a fall is detected, the system automatically calls their contact." Learn more at Mobihealth News.
VitalTech Fall Alerts. "With VitalCare, through our innovative PERS wearables, a fall is detected or SOS panic alert is sent. The alert can be configured to phone numbers, emails, or to our medical alert call center. Connect VitalBand to our emergency medical response center for 24/7 safety coverage. Alerts are pushed directly to our call center for quick response. Seniors quickly get the help they need to prevent serious complications associated with falls." Learn more at VitalTech.