You are here
Predicting the future of health tech and baby boomers – are we there yet?
Thu, 03/09/2017 - 11:15 -

Laurie Orlov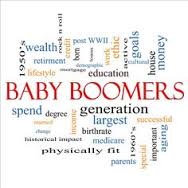 Baby Boomers, Wearable and Mobile Health Tech – A status report. During 2015, the California Health Care Foundation (CHCF) sponsored a research project to evaluate the future likelihood of wearable and mobile health tech. This Boomers and Wearable Health Tech 2015 report considered wearables and health apps -- and the likelihood of these technologies helping baby boomers (the oldest is now 71 and 6 years along with Medicare) manage their own care and avoid unnecessary services and costs.  After all, the mobile health app market alone was predicted in 2013 to reach $26 billion by 2017.  Consider the status of each of these predictions – which were based on 21 expert interviews held during 2015. Were the experts correct or overly optimistic?  Both. Here are the 2015 predictions and what has happened since:
Apps and gadgets will be better suited to boomers. The next version of health apps and devices will have readable directions, easy-to-use interfaces, customizable health advice, and right-sized buttons. Providers will look closely at tech training programs like AARP TEK, which recently launched an online learning site, AARP TEK Academy. New offerings will treat protecting data privacy as mission critical – hoping to stay out of the increasingly focused laser beam of government officials and regulation.
ARE WE THERE YET?  Not quite.  A study conducted one year later concluded that health apps were not all that usable -- "participants were able to complete only half of the data entry tasks—such as entering a blood glucose level." And a University of Michigan study from December 2016 observed that apps usability was still a problem and that apps were not serving the populations most in need of them – those with chronic diseases and the elderly: "Only 28 of these 137 apps reacted appropriately when the reviewers entered a dangerous value."
---
Internet service providers will lower the cost of connection. Following the FCC's May (2015) proposal, there are other Internet service providers that have programs to lower the cost of data plans, including Comcast's Internet Essentials, and a proposed plan from AT&T that was announced as part of its merger with DirectTV.
ARE WE THERE YET? Getting there. But carriers and tech companies don't really want that to happen. So by late 2016, a majority of baby boomers owned smartphones.  New devices are faster, so some sites, notably Facebook, changed their focus to promote video over text. Then users inadvertently consumed more data on their devices, overriding benefits from discounted plans, no matter the provider – or whether the plan is, as is likely, a so-called 'unlimited' plan. At $40/month per device, looking at just AT&T's plan, that means $40/month for one smartphone, another $40 for a tablet, plus another $10 for a smartwatch.  That's $90 per month. And that doesn't count inclusion in this deal, as AT&T hopes, for a TV as well. But some say the need for Wifi disappears.
---
Governments will further incent adoption through reimbursement. The introduction of new payment (CPT) codes within Medicare made 2015 a banner year for telehealth reimbursement. The new codes have resulted in a proliferation of apps, although adoption to date has been limited, and apps for diabetes management were not included. State-by-state, parity is required for Medicaid reimbursement of telehealth.
ARE WE THERE YET? No. In terms of uptake of telehealth and video visits as an alternative to face-to-face for Medicare and Medicaid recipients, not really that close, according to a 2016 CMS report. Telehealth companies are ramping up the hard sell, making the case  to convince doctors and other providers. Self-promoting healthcare providers tout 2017 as THE year, maybe at a Boston Children's hospital.  Telehealth is one of the recommendations from the PCAST report about tech-based improvements for baby boomers – published in March of 2016.
---
Devices will be pre-configured, loaded with data, and delivered to the most vulnerable. In 2015, IBM partnered with Apple to provide iPads to 5 million older adults in Japan, reaching them through the country's postal service. Many of the 22 pre-loaded apps focused on health and other services. In the US, health care providers will consider a similar initiative for patients with complex health conditions and care regimens. Targeting will be based on age, health status, and ability to use the device.
ARE WE THERE YET?  For iPads, in Japan, maybe – not so much here. In the US, there is no sign that Apple officially offers a customized iPad for seniors. IBM has partnered with SimpleC to offer software (likely for use on multiple devices) to engage care recipients and assist providers and families with dementia care. As for Apple, it has ended support for the iPad2, which means no more security updates.  So older iPads are not even close to being secure from hackers – what happens now to the enormous installed base of older adults? The specialty senior tablet makers like Breezie and grandPad continue to benefit from Apple's limited demonstrated interest in the US older adult market.
---
Companies with access to people's homes will incorporate sensors. Some cable, appliance, automotive, and consumer packaged goods (CPG) firms will see the opportunity to add home-based features to their offerings. Unity Stokes, of StartUp Health: "The lines will blur between 'this is health' and 'this is something I use in my home.' Companies with access to the home – cable, appliance, automotive and CPG will incorporate sensors – giving the device for free."
ARE WE THERE YET?  Not even close.  According to Forrester Research as of 6 months ago, only 6 % of homes have a smart-home device.  And Gartner's March 6 survey announcement demonstrates that connected home devices are still limited to early adopters. No rush, since hackers may not be motivated to hack your home devices, but may do so just because they can.  With trouble enough just managing multiple updates for smartphones and tablets, avoiding the Internet of Things within the home is, uh, smart. And be wary and pay attention to Amazon Echo privacy concerns along with those for the newer Google Home. Turn off devices when not using.
---
Watches will eventually replace clip-on wearables – first for the young, later for boomers. The sales curve for fitness wearables is flattening, but smartwatches, fueled by a year of media hype about Apple's introduction, will begin to take off among the most fashion-conscious, rising to 9% penetration within the next year, according to NPD Group. Like other technology adoption trends, however, there will be a significant lag in adoption by boomers, especially those with dexterity issues who find the user interface unreadable or buttons too small or difficult to use. 
ARE WE THERE YET?  Not at all, actually. Sales are really, really down. Smartwatches need an overhaul for the general market, where boredom and abandonment rule. As for sharing of health data from smartwatches or fitness devices, users don't understand where their data might be going or what privacy issues may be associated with their device. Until they do, caution is required.
---
Predictive analytics will be proven to improve care and avoid costs. Health tech vendors see promise in both data integration and the resulting ability to predict who might need care and when. Philips' CareSage, introduced in 2015, combines use of a wearable Personal Emergency Response Service (PERS) with health status data, enabling an alert to a health provider before the patient has the fall that puts them back into the hospital. Other device vendors will see an opportunity to avert future admissions by linking information from devices with population heath information and profiles of individuals at risk.
ARE WE THERE YET?  Getting there.  Looks like Philips is just one of many tech players entering the ring during 2016 to help healthcare providers avoid readmissions of Medicare patients: see Medisolv, Conance and Allina Health – and now, we even have a list of questions journalists should ask about whether predictive analytics actually helps.